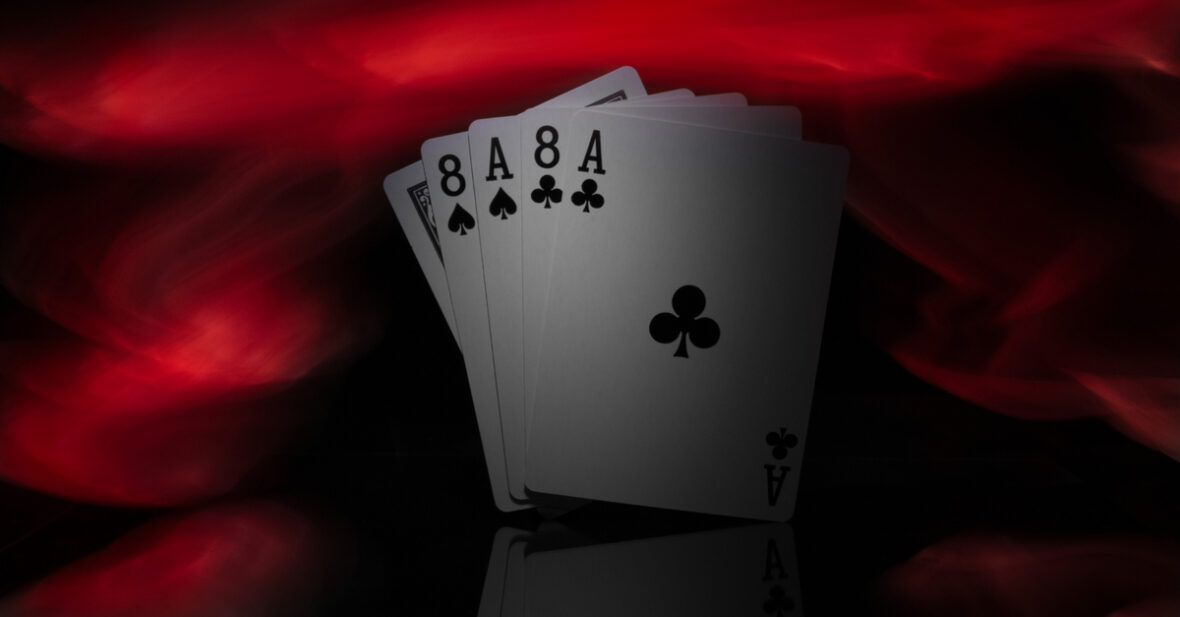 Dead Man's Hand in Poker – Poker Slang to Play and Win like a Pro

Oliver Moore
/ 28 April 2022
Dead Man's Hand in Poker – What is the Famous Aces and Eights Significance?
Gambling with cards has been a significant piece of the world's culture for centuries. You can easily anticipate some remarkable narrations all around it. The gambling world is full of lucky cards, fortunate dice, hot machines, and other superstitions.
The tale about Wild Bill Hickok and the dead man's hand in poker belongs to this world. This game's multiple card sets gained their unique names, but the dead man's poker combination is the most prominent one.
Best Online Casinos to Play Poker in Australia 2022
Name
Welcome Bonus
Details
What is Called a Dead Man's Hand in Poker?
In poker, what is the dead man's hand? Most Australian gamblers ask this particular question when they follow the path of growing as a skilful poker gamer. This slang term can often appear along this path, and experienced gamers enjoy sharing and propagating the exciting tale behind it.
According to the dead man hand definition, poker combos with this name should match the following:
the dead man's hand in poker is a 5-card combo
it includes two black aces
it includes two black eights
When you consider such a hand simply according to poker logic, it consists of two pairs and belongs closer to low-ranking combos. You can both win and lose with such a hand, so it's not a guarantee for anything.
Still, poker is also a game of nuances and backstories. And sometimes, the psychological and historical value can matter. Whether you use it for your advantage, it's up to you.
Dead Man's Poker Hand Origins
What is considered a dead man's hand in poker comes from an old Wild West folk tale. The event regarded as the term's origin goes back to the 1876 year. However, the term became associated particularly with this event in the 1920s. Before that, it had several other meanings:
in 1886, the combo comprised a pair of 10s plus three Js – it was a full house;
in 1903, the combo comprised 7s plus Js;
in 1907, the combo comprised 8s plus Js
Aces and 8s came out into the light in 1926 due to a published biographical book by Frank Wilstach. The narrative about the dead man's hand in poker concerns the affair that happened between Jack McCall and James Butler Hickok.
James Hickok, alias Wild Bill, was a prominent lawman, gunslinger, an ex-soldier in the Dakota Territory, especially in Deadwood. He also enjoyed spending time at the poker table, and gambling circles knew him well. That's exactly what he was doing on that tragic 1st and 2nd of August in 1876.
Jack McCall, the buffalo hunter, engaged in the game with Wild Bill and other people at Nuttal & Mann's Saloon №10 on August 1. The narrative tells that he was quite drunk and lost all his cash to Hickok, who then made him leave the table and offered him some money at least to buy some breakfast.
Despite accepting that breakfast money, drunken McCall didn't appreciate the gesture of charity. He was seeing it more and more offensive. Feeling embarrassed, he planned revenge.
The narrative tells that Wild Bill visited the saloon to enjoy poker again the following day. He had to sit with his back turned to the door on the last free chair. Though he asked, no one agreed to switch places with him. Thus, Hickok didn't see McCall entering the saloon and aiming his gun at him.
The revenge was successful. The shot to the back of the head killed the man instantly. After that, one of the other participants at that table grabbed the cards from Wild Bill's hand and put them on the board. Those cards became the dead man's hand in poker.
Some versions say that the original combo comprised black 8s and two aces – one of the clubs and one of the diamonds, but then the legend made both aces black. Other versions mention both black aces from the beginning. Most versions also show the fifth card as a queen of hearts with Hickok's blood.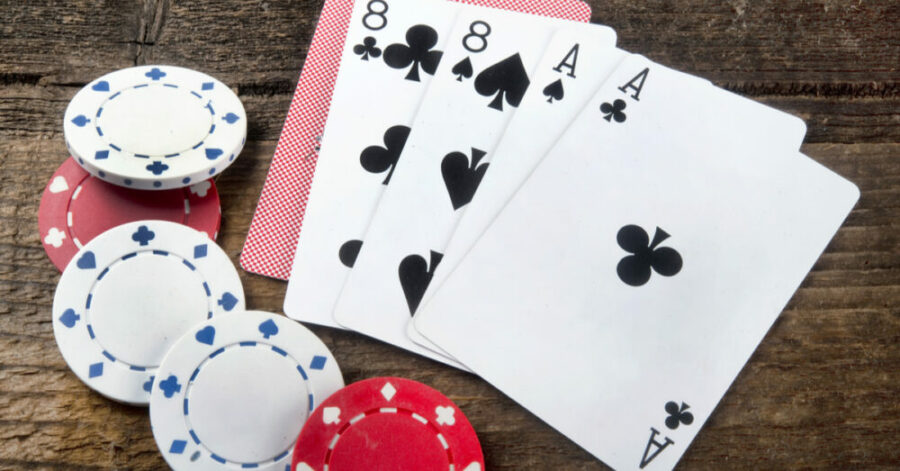 How to Get a Dead Man's Hand in Poker
The popularity of the tale about Wild Bill Hickok not only created the slang term of the dead man's hand in poker but led it from land-based saloons to online casinos. There are many superstitious players among Aussies who consider such stories important.
To call your combination a dead man's hand, you need to collect both 8s of clubs and spades and both aces of the identical suits as 8s. Depending on the version of poker you play, those cards can be your hole cards and belong to the community cards.
Dead Man's Poker Hand Popularity Outside a Poker Game
Besides directly exercising the dead man's hand in poker, the term gained huge popularity in pop culture. In the original story, the combo of eights and aces appeared right before the man's death. Thus, many inspired novelists and movie directors apply it as a warning of death, tragedy, or at least an undesirable event.
The usage of this symbol also brings additional meanings to TV shows and video games. The characters play with death and cheat it or achieve success with the help of such a hand.
The meaning and the term are also popular in the music sphere. You can see it in the lyrics and the song's title.
Conclusion
The dead man's hand in poker and outside it has powerful psychological importance. Two pairs are quite a decent poker combination that can even turn into a full house. However, some players can truly believe that black 8s and aces mean their failure just like they did for Wild Bill Hickok.
The concept of this combo has an impressive and interesting narrative behind it. It made a powerful impact on poker gambling and popular culture. Still, if you suddenly collected a dead man's hand, it's totally up to you whether it'll be your doom or fortune.
You're Welcome To Share This Post On Your Social Media
Related Posts
FAQ
What is the fifth card in a dead man's hand?

In poker, it can be any card. One of the legend versions says it was a queen of hearts.

What is a dead man's hand in Texas Hold'em?

This hand has two black 8s and two black aces made out of your hole cards and community cards.

Why do they call it the dead man's hand?

The hand consists of two pairs of 8s and aces that Wild Bill Hickok had just before his murder.