Craps Online
Oliver Moore | September 18, 2020 | Updated on: March 3rd, 2023
Craps Online Play at the Top Australian Casinos
Every gambling source can be called a successful and well-advanced one, if it can offer players a chance to play Poker, Roulette, Blackjack and, of course, Craps. Australian online casinos mostly have the mentioned games in their libraries, especially considering the fact that the county is famous for gambling.
Best Casinos to Play Online Craps in Australia 2023
Name
Welcome Bonus
Details
Load More
Play Craps Online for Real Money
Generally, the analogues of this dice game are known from the 18th century, but the greatest popularity was gained after the World War II in the 1960's. 1990's was the time when online casinos in Australia were of the great request, but gambling industry was regulated by laws depending on the States. In 2001, there was implemented a law that controlled hazardous games in the country, but all licensed and registered casinos had no problems with authorities. Thus, Aussies has no issues to find Craps Online and carry no consequences.Software providers were pushed to improve personal products for gamblers. And Aussies have a great choice of online Craps to play.
Craps Online beginners' rules – how to start?
Craps is quite a simple game of chance and fortune and the rules can be explained in some lines. There can be many participants in the game. A big table with high cushions is used for dice not to leave the layout's area. 2 dice are thrown by a Shooter, who is a leading attendee in Craps. 2 sides are used and the total result of every turn can be from 2 to 12 points.
There are 2 main phases of the game's process. The first one is called Come Out Roll (it is when dice are thrown in the beginning of the game), when the Point (a number that is fixed for the second round) is identified. The second round is Point Roll that takes place after the Point is set.
Before a game starts, a bet should be placed. There can be Pass Line bet (for win) or Don't Pass Line (for loss) for the specific gambler's turn. There can be also other bets, such as Come and Don't Come variants, which cannot be made for the first throw.
Depending on the results of Come Out Roll, the further process is defined. There even can be a game without the second round, when numbers 2, 3, 7, 11 or 12 are on the table. Otherwise, the Point is set, and the game keeps on going.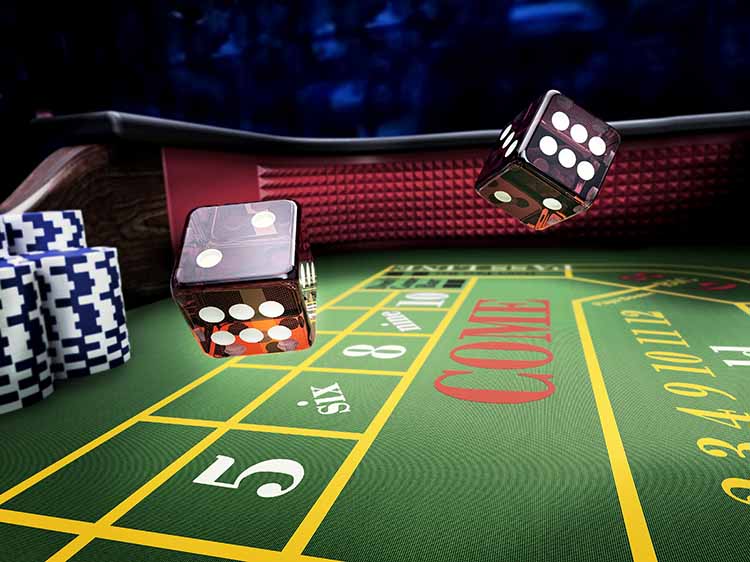 Types of Bets in Online Craps and their winning odds
In spite of quite simple general bets, Craps have numerous other bets to use, and they are described below:
Pass Line. A bet on a Shooter to throw 7 or 11 on Come Out Roll, or to set a Point further. This is the most frequently used variant in Online Craps.
Don't Pass Line. A bet on a Shooter to throw 2, 3 or 12 on Come Out Roll, or will not set a Point further.
Come. A bet on a Shooter to throw 7 or 11, or to set a Point. MIND! – this bet can be made only after a Shooter has set a Point.
Don't Come. A bet on a Shooter to throw 2, 3 or 12, or to set a Point that will not be thrown further.
Odds. An additional bet on Pass/Don't Pass, Come/Don't Come.
Win. A bet on a specific number before Shooter throws 7.
Lose. A bet on a Shooter's attempt, when it's 7 before a chosen number.
Hard ways. A bet on a double before a Shooter throws 7 or double in another combination.
Big 6. A bet on 6 to be thrown before 7.
Big 8. A bet on 8 to be thrown before 7.
There are also some other bets, such as: Field, Any Sevens, Any Craps, Craps Two, Craps Twelve, Craps Three and Craps Eleven, but for beginners, it is enough to know the above mentioned bets and what they mean.
The information about odds for this or that specific bet is very important information, and it is provided in the table below.
Bet
Winning odds %
Losing odds %
Don't Pass Line
47.9
49.2
Don't Pass / Come Odds Bets
The given table of odds should be useful for beginners to understand where it is better to make a bet.
Top Craps Online tips to win at Australian casino
First of all, Craps is a game, where luck is the main thing. But there are also some tips and advice, which can be used to increase the chances to win.
It is necessary to study a specific online casino, before start playing, as different sources give different odds. If you are sure in your intuition, you are advised to use Hard Ways bet. It cannot be used as a long term strategy, but sometimes it can bring a good win. Besides, every gambler should control a bankroll in order not to lose more, than it is acceptable. And the last thing to consider is to check personal condition, and never start playing when something is worrying you, or you are sleepy or nervous.
The luxury of Vegas downtown
However advanced are table games in 2023, none of them can outshine the glory of live dealer craps online performances. Put on in casino halls and streamed straight to your devices in real time, live craps games enable everyone to soak up the sparkling atmosphere of the famed houses. If you have expected that live craps are all about new betting rules, get this assumption out of your head: craps live gaming is about something much more fantastic than mere side wagers.
Result fairness. Dice actions are run not by intimidating random number generators with obscured RTP but accomplished and unbiased human dealers.
Aesthetic pleasure. Nothing on the Earth will be able to deter you from keeping your eyes on dice when they fly up, swish across a polished table and land, showing a lucky outcome.
Full immersion. No matter what game version you prefer (for PC, Android or iOS systems) dazzling HD graphics of real dice rolls will get you glued to any screen accessible.
The world-class providers. Whereas pursuing RNG thrills you will come across numerous coding flaws, nothing similar happens when you play live craps online. As far as in terms of engineering live craps are a masterpiece of the latest infotech, only the leading companies, such as Evolution and ViVo Gaming, can focus on this innovative entertainment.
An encouraging camaraderie. The greatest advantage of online platforms is a possibility of multiplayer interconnection, which deploys diverse types of communication (video meetings, chatting, voice mails) in one app.
By and large, there are no reasons why you shouldn't give a try to live dice sprees: in its essence, they are your unique opportunity to visit the famed casino studios from the comfort of your own home.
In case you are good to go, find any available craps live casino; if needed, download free programs that open the virtual doors of real live craps lounges, digitize your consciousness and fly to flashy realms.
FAQ
Can I play Craps Online in Australia?

Craps is a very popular game in Australia and many online casinos offer it to visitors without any limitations, but the age that should be 18+. And as the gambling industry is well-advanced on the continent, there are plenty of available websites and other sources to play Craps.

Is Craps Online game legal in Australia?

Yes, Online Craps is a legal game in Australia. In accordance with the Interactive Gambling Act from 2001, if a source is registered and does not advertise gambling or offer Sports betting and Lottery (if it is about interactive bets), it is forbidden. All other games are accessible.

Do Australian casinos cheat at Craps Online?

Australian casinos cannot cheat players for 2 main reasons. Firstly, it is a matter of reputation, and if a casino loses it, there would be difficult to compete with many other alike online casinos. Secondly, authorities regulation is quite hard and the laws cannot be broken without consequences.

What is the safest bet in Craps Online?

Considering the house edge, one of the safest bets is Don't Pass Bet with the rate of 1.36 %. Just, as an example, Pass Line Bet has 1.41 % of house edge.

Can Craps Online be beaten?

In general, casinos always win, but if you choose the right betting strategy, control own bankroll and undestand the importance to stop playing after a good win, your chances to win are extremely high.