Video Poker
Oliver Moore | September 18, 2020 | Updated on: January 3rd, 2023
Video Poker Online Games for Australian Players
Video poker is a casino game based on 5 card draw poker. The first video poker machines appeared in 1970 and over time began to become more popular. They are gaming machines similar to a slot machines. Unlike standard poker, Video poker is a solo game in which you have no opponents. The rules of the game are quite simple and straightforward. You press the "Spin" button and get five random cards. You have the option to keep your hand or change one or more cards to choose from. After your decision, the game gives you an instant payout depending on the combination that you were able to get. Payouts depend on the rarity of the combination. You will receive the smallest reward for a pair and the largest for a Royal Flush. Some types of video poker have a progressive jackpot and unique rules that make these types significantly different from each other.
Best Online Casinos to Play Video Poker in Australia 2023
Name
Welcome Bonus
Details
Load More
Popular Video Poker Types
Like any other game, Video Poker comes in many types. Each type has its own winning conditions, rewards, combinations, and rules that make it unique. Some types are less popular now, others can be found in every online and offline casino. Let's take a look at the most popular types of video poker today: Jacks or Better, Deuces Wild, Double Double Bonus and Joker's Wild.
Jacks or Better Video Poker
This type of video poker can be called a classic variation of the game. The rules for Jacks or Better are exactly the same as for 5 card draw poker. Except for, there is no way to raise or bluff as there are no opponents in the game. First, you choose your bet size and make a spin. The computer dealer deals you 5 random cards and you choose which ones to keep and which ones to change. After you receive new cards, the gaming machine will calculate the combination and if you have collected a combo of a pair of jacks or better, then you get a payout.
Deuces Wild Video Poker
Deuces Wild video poker has taken one popular feature from slot machines – Wilds. If you've never played slots before, here's a quick explanation. Wild is a symbol that substitutes for any other symbol in combination. In this game, Wild symbols are deuces. If you get 4 deuces and an Ace, it counts as 5 Aces and so on. Thus, with the help of Wild Deuces, you can instantly complete combinations and get big wins more often.
Double Double Bonus Video Poker
Double Double Bonus Poker is the second of the three most popular poker games. Unlike the previous version, this game does not have unique mechanics like Wilds. The rules for playing Double Double Bonus video poker are completely identical to the classic Jacks or Better rules. The player chooses a bet, receives 5 cards, chooses which ones to keep and which ones to change, and gets paid. The main difference between this type of poker is the payout. First, it has the highest RTP among all types of video poker – 98.98%. Secondly, all 4 of the same type combos have a double reward. Thus, for a combo of 4 identical cards, you will receive many times more money than for a Royal Flush.
Joker's Wild Video Poker
The third popular type of poker is Joker's Wild. According to the rules, this game is very similar to Deuces Wild video poker. This game also has Wild, the role of which is played by an additional card – Joker. There is only one Wild in the game, while in Deuces Wilds – 4. Thus, the game deck consists of 53 cards, and the player has an additional opportunity to complete the combination and get an impressive payout.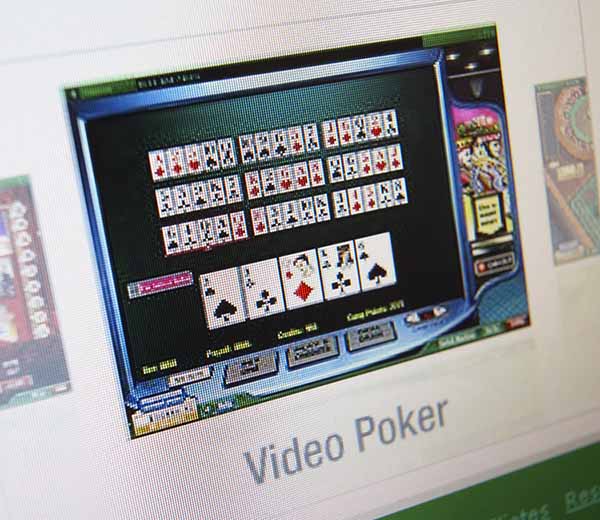 Video Poker Most Common Strategy for Beginners
After reading the rules, an inexperienced gambler might think that in video poker everything depends only on luck. In fact, there are tactics and tricks here too to help you get more frequent wins and bigger jackpots. In this section, we want to provide some useful tips for newbies and outline the strategy to follow if you are playing for the first time. Using this knowledge, you will be more prepared and able to leave with pockets full of money.
How to play Video Poker for the First Time
Before starting a new game, it is worth learning the rules from A to Z. If during the game you forget or mix up a combination, it can cost you a lot of money. If you forget that there is a Wild in the game, and accidentally skip it, then you may lose the jackpot, which will cover all your past bets. After memorizing the combinations and rules, join the game and adjust the rates according to our strategy. Nobody rushes you, so think about every step. Is it worth the risk? What payout can you get and how much can you lose?
Best Winning Strategy
A proven strategy to follow for all newbies and advanced users:
Always play max bet. The winning directly depends on your bet.
Always keep two pair, 3 of a kind, full house, 4 of a kind, straight flush and royal flush.
Only break a straight or flush if you have 4 cards for a royal flush.
Break a pair if you have 4 cards for straight flush or royal flush.
Always keep a low pair instead of a high card.
By using these tips, you will win more and improve faster in the game.
FAQ
Is video poker better than slots?

Although video poker is similar to online slots, it is difficult to compare the two games. In slots, nothing depends on the player. You just press spin and wait for the result. In video poker, the player can influence the outcome of the game and increase his chance of winning by shuffling the cards. It's also important that Video Poker RTP is higher. Therefore, many players prefer video poker over slots.

Can I cheat playing video poker?

Not. If you can try using cheats in card games with other people, then in video games you do not have such an opportunity. The video poker machine does not make mistakes, and the player cannot do anything that would increase his chance of winning by bypassing the rules. If you want to find a game without cheating, then video poker is a great choice for you.

Is video poker a game of skill?

Exactly. The ability to use your skill and knowledge to win is the main difference between video poker and slots. If you remember the number of cards in the deck, use strategies and calculate the odds, then you can win more often. Of course, to get a skill, you have to practice and play a lot.

Is video poker legal in Australia?

Yes and no. Several years ago, a bill was passed banning gambling for real money. However, this rule only affected providers and casino owners, not players. Players can play real money games and wager real money completely legally. But if you want to open your own online casino of offline casino, it will be difficult.

What are the video poker odds?

Video poker odds depend on the type of video poker. For example, in classic Jacks or Better, the RTP is 99.54%. On average, in all types of video poker, house advantage never surpasses 5%. In a Deuces Wild, for example, the RTP is 100.76%, which is the highest percentage among gambling games.