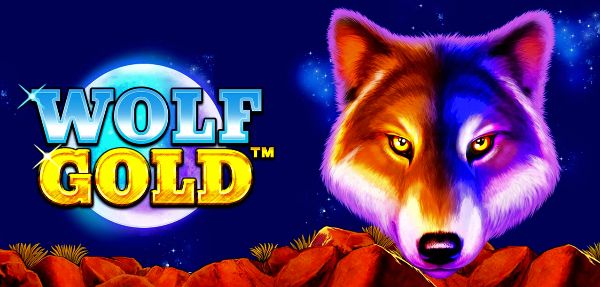 Oliver Moore | February 9, 2021 | Updated on: December 16th, 2022
Rating
Software
Pragmatic Play
Slot Type
Progressive Jackpot Video Slots
Slot Reels
5
Slot Paylines
25
Features
5 reel slots, Autoplay Option, Free Spins, Multiplier, Scatters, Wild Symbol.
Min. Bet
0.25
Max. Bet
125
Slot Themes
Animal/Native American
Slot RTP
96.01%
Wolf Gold slot: discover the sheer wilderness behind the reels
For good reason, wise shamans of the savage American prairies knew that, following mythical trails left by majestic wolves, bold risk-takers could come across not only mammals bones but countless riches. In April 2017, Pragmatic Play turned this grandiose epic into a new progressive Wolf Gold slot machine.
It proved that wolves are the luckiest animals on the Earth that aren't intimidated to take over their beast destiny and always reach winnings whenever they want. Don't believe us? Look through this clear-cut game review and get taken aback by x12500 gold mysteries.
Finding Wolf's traces
That the gameplay of Wolf Gold slot completely resembles the itinerary of classic slots adventures shouldn't baffle you.
Find an online casino that operates abide by a gambling license and is accessible in Australia and has Wolf Gold slot title in its collection.
Register thereby filling in all required personal data, including real name and age.
Make a deposit – sacrificial money – sufficient enough to qualify for the welcome bonus and gear up to make good use of extra cash; also, make sure that you toggled on a "real coins" mode.
Roam in slots gallery or type its name in a search casino field, click on a wolfy preview picture and contemplate as 5 sandy reels pop up on a screen.
Decide how much you can put into play and tap on a "Spin' circle beneath symbols; wait until beasts stop running and get caught up in your winning aspirations.
You see, regardless of the advanced feature, you will never go astray in medieval America: find the jumping-off casino point from which wolves fly to the land of nod and feel as adrenaline is coursing through your body while you are seeking out promised prizes.
Knowing the animals to zero in on
At the same time, if you are eager to get a bite of Wolf Gold slots reels, you had better explore their symbols one-by-one and learn what they can bring to serve up your gaming meal.
Horses, buffalos, cheetahs, and letters payout by a paytable.
The Wolf is a wild and substitutes for all symbols except for the scatter and money symbols.
The red rocks with gold flashlights are the scatters: they land only on 1st, 2nd, or 5th Wolf Gold slot reels; provided that you receive 3 scatters simultaneously, you will be awarded even money winnings and have a chance to set off a chain of 5 magical free spins. Free spins have no limit: once you hit 3 more red rocks, you will trigger 3 more spins.
Naturally, the wolf spirit cannot overcome the moonlighted gaming temptations; therefore, the Moon symbols play a key role in animal life: when six of them show in front of your eyes, you will be able to take advantage of the Money Respin feature.
By and large, Wolf Gold is rich in diverse symbols, and if you get yourself into this game, in no time your consciousness will be enhanced with wolfy luck-focused impulses.
Acquiring a taste for coin meat
Wolves are known for their insatiable gambling hunger for bonuses and free wagers, which is why in this Wolf Gold slot review we are thrilled to reveal the bonus game surprise, initially hidden betwixt the reels but still enabling enthusiasts to be over the Moon with its excitement.
The Money Respin game replaces the reels: all symbols aside from moons fade away, and instead of them you will see empty positions. You will have 3 respin chances, during which other "big win" moons will hit free spaces: every time at least 1 moon hits, the number of future respins will be reset to 3. A round becomes over either when all respins are finished, or all places are fitted with satellites.
Savoring Vegas nights
What about the ultimate boasts of Wolf Gold slot, some of them immediately come to mind: for example, the 96.01% RTP rate, 25 omnipresent pay lines, and numerous bonuses that have no end in virtue. Nonetheless, after the first spinning evening with wolves, you will understand that an inspiring background with the starry sky and picturesquely infinite landscapes may turn out to be the crucial reason why you will keep thirsting for more gold coins.
Discovering the hints to win
Although the span of the full moon is fast approaching, there is no need to look for animagical potions: below we collected some valuable tips which will navigate your path to untold trophies.
If you can afford, make the largest possible deposit and toggle on a "Maximal bet" icon: this option will activate all pay lines so that you won't slip rewards through your virtual paws.
Before putting at real risk dollars, go hunting in free play mode at any online casinos across Australia: acquire a taste for extreme Wolf Gold slot chases and get acknowledged with all fatty wilds and bonuses.
Trust your gaming instincts and copy wolves' behaviour: being unrivalled hunters by nature, they know that feeling the right moment to seize a bet is the key skill in successful symbol stalking.
The more you practice, the more you sharpen hunches on big preys, and the more accomplished gamer you will become.
Best Casinos to Play Online Slots in Australia