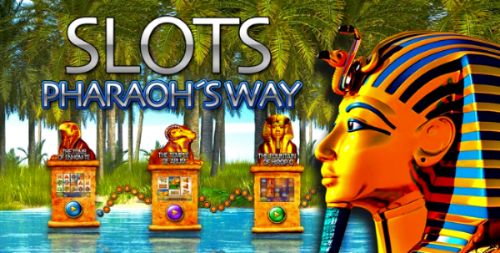 Oliver Moore | February 9, 2021 | Updated on: December 16th, 2022
Rating
Software
Cervo Media Studio
Slot Type
Jackpot Mobile Slots Real money slot Video Slots
Slot Reels
5
Slot Paylines
40
Features
5 reel slots, Bonus game, Free Spins, Jackpot Symbol, Wild Symbol.
Min. Bet
1
Max. Bet
100
Slot Themes
Egypt
Slot Pharaoh's Way – After playing this game you will believe in Egyptian gods
The treasures of ancient Egypt are calling: in this slot Pharaoh's way review we will cross over to the fantastic realm where Ra, Anubis, and Set are still alive and pour myriads golden coins on the worthiest gamers. Created by Cervo Media Studio in 2012, the one-slot game evolved into a fabulous planet with several civilizations, each of which boasts its unique approach to spinning performances and gaming pleasure. Aztec's undiscovered Brasilia, the folks near the Polar Pole, the heights of Asian mountains – all these glories of human history are woven into the slot Pharaoh's Way universe. They are waiting for you to explore them.
Learning Egyptian slot grammar
Having the title of gaming gates written in notes is delightful, but knowing how to set off your casino adventures is much more exhilarating.
Find the slot Pharaoh's Way on any gaming platform, click on an option to start the game free download, and wait until your gadget automatically installs the new program.
If you haven't registered an account at Google Play or haven't got an Apple ID, make any of them active.
Search in your main menu for an icon portraying a majestic pharaoh and tap on the picture; in no time after that, you will get sucked into the gambling normality with Earth-like continents and states.
Imagine yourself as a traveller and choose any sight you would like to visit; whether you opt for Africa or Europe, or America – it doesn't matter.
Wherever you go, you will come across gripping reels that convey the local points of view towards casino traditions. For example? Whereas the Egyptian slots are inspired by gold, the games of the North will make you freeze on icebergs.
Sacral symbols
Given that slot Pharaoh's Way is the One mod apk that involves a manifold of mini slot games, there is no possibility to describe all Egyptian symbols in detail. However, we managed to figure out the most fortunate hieroglyphs that bring sound jewels to every winner.
Face Cards
Golden crosses
Diamonds
Mythical animals
If you imprint these slot Pharaoh's Way symbols into your mind, someday you will unveil the secrets of the forgotten cultures: their astrological beliefs in lucky dates identification, ways of how to take over your destiny, and even how to implement controversial tips and tricks in one round.
Bonus games that spoilt for choice
The more slots are on offer, the more diverse are bonus games, aren't they? The Pharaoh's reels have bunches of enthralling surprises.
The Pharaoh's spin bonuses are randomly triggered in any machine and bestow up to 10 free spins.
Diamond events that give access to treasure collection challenges, thanks to which you can gain extra credits for spins or faster levelling-up.
By the way, if any bonus doesn't work to your advantage, please make sure that your gift is reset and usable for the future.
What other slot games lack?
Of all reels you may have given a try previously, nothing can be compared to the joy of the Egyptian casino normality. It may seem unbelievable, but Pharaoh's Way is not a mere virtual pyramid packed with machines: the app unfolds a virtual realm with ancient temples, fountains, monuments, castles, forests, and oases.
The state-of-the-art graphics guarantees an almost realistic experience and deep immersion, so… welcome to the fourth – the gaming – dimension inside a screen, and look out for your next strings of slot passion.
How to become a pharaoh in a week?
Although some might assume free gaming enables players to jeopardize everything to the last penny and allows them to forget about puzzling strategies, you wouldn't like to lose. For this reason, we would like to reveal the simple strategy, sticking to which you won't need to cheat or count free coins. Ready?
Indulge in this app daily: the highest value of the Egyptian culture was eternal consistency, which is why the most devoted players will be awarded good coin presents every three hours.
Take advantage of the Lucky Spin Wheel: every day you will have a chance to receive additional gifts of up to 125,000 credits.
Don't limit yourself to one slot title: the land near the River of Life provides more than 20 games, but we haven't counted games located in the Magical Valley, the Pharaoh's Garden, the Sacred Mountain, and the Frozen Sea Secret yet.
As expected, the best slot strategy doesn't cover "how to crash the slot Pharaoh's Way RNG" issues; instead, it is focused on blissful happiness with the maximal amount of free investments.
Best Casinos to Play Online Slots in Australia