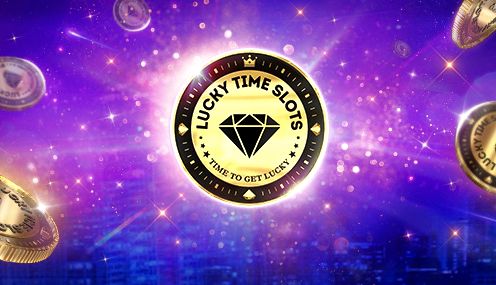 Oliver Moore | March 8, 2021 | Updated on: December 16th, 2022
Rating
Software
DGN Games
Slot Type
Progressive Jackpot Video Slots
Features
Bonus game, Free Spins, Mega Jackpots.
Lucky Time Slots review: play exciting casino games free
If you enjoy playing casino games, but you don't want to make real-money bets, then social casinos are the best choice for you. They're free for players and offer plenty of exciting pokies. Users get free coins to spin the reels, and they can receive more due to generous bonuses. You can also communicate and compete with other gamblers at social casinos.
This guide will tell you about Lucky time Slot games – online pokie machines that you can play on mobile and Facebook. We'll tell you about the app design, bonuses, types of games, and its main benefits for users.
How to play the Lucky Time Slot?
This gaming software was developed by the DGN company. You can play games using a mobile app or on Facebook. If you've decided to install the software on your device, note that it'll occupy at least 110 MB of free space. You can download the Lucky Times Slots app in Google Play, App Store, or on Amazon. It's free for all users.
To get the app, tap Install, and then wait for the software to download. After that, the app will be installed on your device automatically. When the process is finished, launch the app. As soon as it loads, the game will offer you to collect a huge 15 000 000 welcome bonus. This will be your initial budget to play slot machines.
On the main screen, you'll see the list of games available. You'll be able to try the ones that suit your level in the app. The more you gamble, the better your level will be. The app is free, but you can make in-app purchases for real money to get extra coins and VIP points. The biggest package includes 12 billion coins and 100 VIP points. You can purchase it for $100.
Lucky Times Slot design and gameplay
The app features a bright design with blue, purple, turquoise, and pink colours. All the pokie machines you can play will be just in the center of the screen. If you want to launch one, click on the icon, and the game will start.
There are also two information panels on the screen. The first one is right under the games' icons. It shows you how much time is left before the Daily Bonus will be available and the prize's size. There are also icons of the Lucky Wins feature and Boomerang Bonus on this panel. If you want to get information on your profile or see the inbox, tap on the Social icon. To connect the app with your Facebook profile, use fConnect.
The second information panel is situated right above the games' icons. It shows you the current account balance and allows you to learn about your VIP status, buy coins for real money, see the daily challenges, and access your profile info.
Lucky Time Slots: what games are available?
The app offers players more than 100 different pokie machines. Not all of them are available from the start. You have to spin the reels and reach new levels to get access to more slot machines. The most exciting and luxurious games require a level 2400 or more. The DGN company regularly adds new slots to the lobby section.
The first pokie machines you'll be able to play are:
Fu Festival;
Aztec Sun Gods;
Honeybee Gold;
Inca Moon;
Golden Fang;
Cleopatra's Jewels.
The more you spin the reels, the more exciting games you'll be able to play. If you succeed in reaching high levels in the app, you'll be able to try such slot machines:
Golden Empress;
Wold Wings;
Sherluck Holmes;
Exotic Tiger;
Lion Spins;
Jungle Drums, etc.
Every game in the lobby has a unique feature. You can see which feature it is from the title right above the game icon. The higher level you need to play the pokie machine, the bigger prizes it offers.
When you launch a certain game in the Lucky Times Slot app, you'll see the reels right in the center of the screen. Each slot machine has a different number of lines and reels. The controls panel is situated right under the game field. Use it to start spinning the reels, make your bet, start Turbo mode, see the amount of Boomerang Bonus coins, or get the complete information about the current game. Playing slot machines, you'll be able to receive not only payline winnings but also bonus prizes and different Jackpots. You have a chance to win such progressive prizes as:
Mini Jackpot;
Minor Jackpot;
Grand Jackpot;
Major Jackpot.
Note that progressive prizes are available starting from the 4th level. Your max bet in games depends on your level too. If you want higher limits and better wins, then join a High Rollers Lounge. It allows you to make way higher bets, unlocks Supreme Jackpot, and gives you a chance to compete with other users for first place in the leaderboard. If you unlock High Rollers Lounge, you'll be able to win up to 100 billion coins per spin.
Lucky Time Slot bonuses and promotions
You'll get the first prize in the game right after you launch the app. It'll be a 15 000 000 welcome package, which is enough to play all the pokie machines available for new users. Playing in the app, gamblers can also get guaranteed regular prizes. The first one is a Daily Bonus. Every day you'll receive a certain amount of coins. The size of your reward depends on the initial amount of a Daily Bonus, your VIP level, Boomerang Bonus, and Friend bonus. The second freebie you may receive is an Hourly Bonus & Lucky Spins. Every few hours, you'll get a certain amount of coins and the ability to make a Lucky Spin and win even more free funds.
Another way to obtain extra money in the game is to reach goals in daily challenges. This option is available starting from level 6, which is very easy to achieve in just 10 minutes. Your goals may be:
Spinning the reels in pokies for a certain amount of times;
Getting several wins in a row when playing slot machines;
Winning a predetermined amount of coins in Lucky Times slot games;
Betting a certain amount of fund in pokies;
Making a predetermined amount of winning spins.
The daily goals are changed every 24 hours. If you're lucky to achieve them, you'll earn millions of extra coins for gambling.
Playing the Lucky times Slots, players can also receive such prizes:
Boomerang Bonus. This is a cashback bonus that is becoming bigger every time you make bets in slot machines. When you collect it, extra coins are added to your account balance. The bigger bets you make, the more money you can win. The maximum prize is 1 billion coins.
Lucky Wins. This bonus feature is available on the second day after you install the app. If you trigger it, you'll get extra prizes when you hit a win in pokie machines. The feature lasts for 2 minutes.
Social Bonus. If you want to obtain more funds right after you've launched the game for the first time, connect your account in the app to the Facebook profile. You'll immediately get 20 million coins.
Friends Bonus. Every time you invite a friend to play the lucky Time Slots, you'll receive 20 million coins. Moreover, you'll be able to exchange gifts with friends to give them extra money for gambling.
The more players spin the reels in games, the better bonuses they receive. The app has 10 VIP levels. When you reach them, you get such privileges:
purchase boost;
higher daily bonus;
lucky spin boost;
XP boost;
free shop credits;
Jackpot Time boost.
Every new level requires status points. To reach the 10s level, you have to collect 12 000 such points. You can make it way faster, in case you'll purchase coin packs in the shop.
Lucky Time Slot mod apk and cheats
There are some hacks on how to obtain lots of extra funds in the game. The first one is to get the Lucky Times Slot free coins using Reward Links. You'll find these links on the Facebook Fan Page. Sometimes they're sent via in-app notifications too. Tap on the link to receive millions of coins from playing pokie machines.
Another way to obtain more funds or even make your budget unlimited is installing the game apk mode. It eliminates lots of restrictions and allows you to receive plenty of freebies. Make sure you download the file from a trustworthy source.
The third way to get free money for playing slot machines is to use promo codes. They allow you to purchase coin packages without paying real money for them.
Lucky Times Slot pros and cons
Playing games using this app has both advantages and disadvantages. The biggest benefits are:
the ability to gamble for free without having to make a deposit;
there are lots of exciting games available;
you can get free freebies every day;
players have a chance to win a progressive jackpot;
the app offers plenty of bonuses and promotions;
you can invite friends and exchange gifts;
you're able to join a VIP program.
There are also a few drawbacks of playing Lucky Times Slot games:
you can't win real money;
it takes time to unlock the most interesting slots;
coin packages are expensive;
potentially unwanted Facebook activity.
If you search for a great app for playing free pokie machines, Lucky Times Slot will be a good option to consider. It has fascinating games, great design, and offers huge winnings, including progressive jackpots that reach billions of coins. The app is fun and entertaining, but you should always remember that you can play it only in the free mode. Real-money gambling isn't offered.
Best Casinos to Play Online Slots in Australia