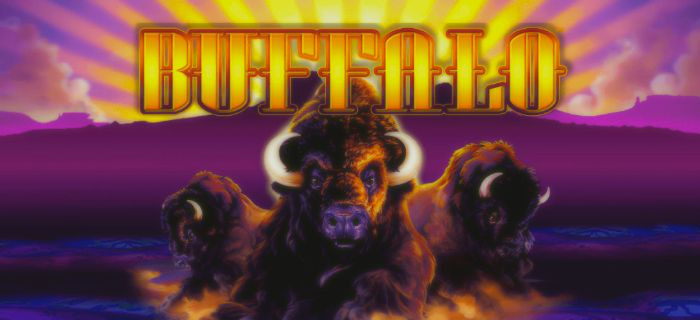 Oliver Moore | September 23, 2020 | Updated on: December 1st, 2022
Rating
Software
Aristocrat
Slot Type
Video Slots
Slot Reels
5
Slot Paylines
1024
Features
Free Spins, Multiplier, Scatters.
Min. Bet
0.02
Max. Bet
400
Slot Themes
Nature, America
Slot RTP
95.96%
Buffalo Pokie review
The main advantage of slots is the huge variety. By visiting a major online casino dedicated to slots, you can find over 1000 different games for every taste. Slots based on movies, games, books, nature, gems, monsters and other original genres – all this awaits you in the world of slots. This article will focus on the super famous slot machine – Buffalo Pokie. If you have visited an offline casino before, then you might hear the loud cry of Buffalo, spreading throughout the hall. Yes, this is exactly from this game.
Buffalo Pokie was released in 2006 by Aristocrat and has become one of the most popular slots. The theme of the game affects two aspects at once – nature, or rather fauna and America. If you are a fan of America's desolate canyons and dangerous wildlife, then this game is for you. In addition to atmospheric graphics and sound, the game also has a large list of bonus features, free spins, an extra bonus round, and so on.
Buffalo Pokie design and gameplay
Buffalo Pokies design is all about nature. The logo of the game, as well as the start screen, are 3 formidable buffaloes drawn in a realistic style. The Aristocrat company did not bother much with the interface, so the game buttons look standard and are not designed for the style of the game. The window with reels and rows also looks quite simple – a light background and iron frames. But the game background is a completely different matter. The game designers tried their best and painted an incredibly beautiful sunset in the desert.
Unobtrusive music plays in the main menu, which does not interfere or distract from the game. All game animations and actions have its unique sound, which helps you immerse yourself in this atmosphere even more. The main game symbols on the reels are animals from the USA. During the game, you will try to land a combination of:
Game cards 9, 10, Jack, Queen, King, Ace.
Buffalo.
Eagle.
Cougar.
Wolf.
Deer.
Sunset.
Coin.
The combination of each of these symbols will bring you certain payouts or activate bonuses. Combo rewards depend on the symbol itself. A combo of 5 buffalo will give you x300 payout, and a combo of five Jacks will give you x100 payout.
With the symbols sorted out, now how to start playing Buffalo Pokie? As in all other slots, everything is very simple! Top up your balance and join the slot, but do not rush to press the Play button. Before you start, you need to set the "Reel Cost" and "Bet". The first function sets the cost of each reel with a maximum cost of 40. Bet is how much you spend for each spin. If you place a bet 0.02, and the reel cost is 40, then your total bet will be 0.8. With the maximum Bet and the maximum Reel Cost your bet is 400. After specifying the necessary values, press the "Play" button.
After that, all reels will start moving, and after a while they will stop at random symbols. If you got a combination of 3 or more identical symbols on active lines, you will receive a payout depending on the combination. In addition, bonus symbols can appear on reels, which activate one of the unique features of the games. You will learn more about this in the next section.
Buffalo Pokie bonuses and promotions
Every modern slot includes a number of bonus mechanics. Using the slot machine promotions, you can play a mini-game, get free spins, a multiplier or get coins for free. Buffalo Pokie, of course, has its own set of bonuses that will multiply your winnings many times over. Available bonuses:
Wild. Wilds are symbols that, in combination, replace any other symbol, allowing you to complete the combo. In Buffalo Pokie, Wild is a symbol of sunset. This symbol can appear on the 2nd, 3rd and 4th reels both during the regular game and during the bonus game.
Scatter. In slots, Scatter is a symbol that activates free spins, a bonus round or other mechanics. In this game, the Scatter is a Coin. Hit a combo of 3 or more Scatters to get free spins. Scatters also have their own payout for combo – x20 for 5, x10 for 4 and x2 for 2.
Bonus round. As soon as you find a combo of 3 or more Scatters, a mini-game will be activated. For 5 Scatters, you will receive 20 spins, for 4 Scatters, 15 spins, for 3 Scatters, 8 spins. If during the free spins you find 2 more Scatters, then 5 free spins will be added to your counter. This feature can be retriggered any number of times.
Multiplier. During free spins, the Wild symbol gains new properties and gives an additional multiplier. If you land Wild, then your payout is increased by 2 or 3, and the total payout is multiplied by 27.
Jackpot. The most expensive symbol in the game is Buffalo. To get the biggest payout, you need to land a combo and 5 Buffaloes on the active payline. For this you will receive x300 of your bet.
In terms of bonuses, the game is very rewarding and has an interesting gameplay.
Best Online Casinos to Play Pokies in Australia 2022