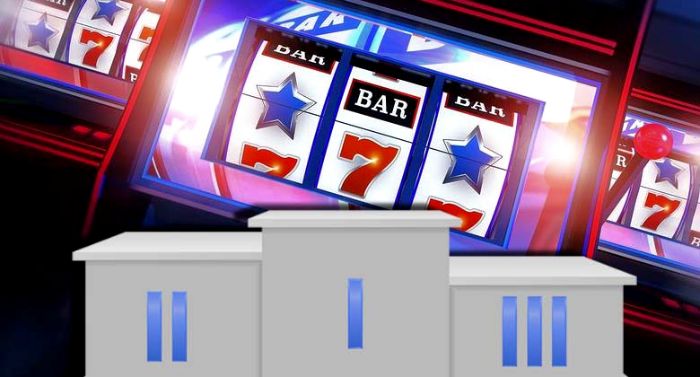 Slot Tournament

Oliver Moore
/ 18 February 2021
All You Need to Know About an Online Slot Tournament
Some would say that slot playing is in the DNA of every Aussie. You can find slot machines in pubs, restaurants, and of course online, and is the most popular online casino game. Its simplicity and enjoyment keep players coming back for more.
However, if you ever hear pokies player complain about one thing, they often get lonely. Zero communication can be isolating when playing online with no one to talk to and no sense of accomplishment but playing with yourself.
Best Casinos to Play Online Slots in Australia
Name
Welcome Bonus
Details
The solution could be as easy as a slot tournament. Slot tournaments are like any tournament, in which you compete against others with the hope of placing first and winning a prize. The thrill, the excitement, and the challenge of playing slots can be all the more stimulating when you join a tournament.
This article will run you through everything you need to know about these tournaments, where to find them, how to win, and how it all works. After reading this, you'll be fully equipped to give it a crack yourself and potentially walk home with cash and the sheer pride of beating real people.
How Does a Slot Tournament Work?
Slot tournaments give players an opportunity to competitivity play against each other with the casino as the host. The casino will choose the teams, limit the number of spins for each player, and set a time limit for playing. Much like poker, to join a slot tournament a player must sign up, create an account, and pay a specific dollar amount. In return, they receive the equivalent number of chips, also known as credits. When someone wins a tournament online, they usually receive a prize in addition to the money they won playing the machine.
The casino running the tournament will determine when and for how long people play. This is usually advertised ahead of time to give players a chance to sign up. Different casinos run their tournaments differently, and because of this, the rules can vary. Though, we can draw some similarities from previous tournaments and the main objective of playing:
See which player can earn the highest amount of money during their game.
See who can play the longest without running out of casino chips.
When you start playing tournaments, you will notice some unusual and different lingo being thrown around. Below are two common phrases that we will help you to understand. 'Buy-in fee' is the amount of money required to secure a spot in the tournament. Think of it like a deposit that you never get back. 'Time limit' refers to the amount of time each player is given to play during the tournament. This varies from tournament to tournament and is often listed before the event taking place.
Where to Find Tournaments?
Finding a slot tournament is easy. Go onto the homepage of your favourite online casino, and you will see a list of the slot tournament names and when they are scheduled for. Most reputable online casinos offer tournaments at different points throughout the year, and the cost of entering depends on the casino and the type of event you're entering.
While some tournaments have a buy-in fee, others are free of charge to incentivise new players to play. This is great if you don't want to make the financial commitment but still want to have fun.
Tips & Tricks
Get plenty of rest – It's important to think about strategy when playing, and part of that strategy is getting the right amount of sleep. Tournaments can be exhausting and time-consuming, and without adequate sleep, you could lose focus and play poorly. Sleep is king.
Play quickly – A slot tournament is likely a timed event, in which case the speed at which you play will affect your placing. Each spin increases your odds of winning so play fast, spin lots, and increase your chances of winning big.
Don't check your balance – When you are playing your number, one focus should be play. Don't go containing your winning combinations. This also goes for other distractions such as changing a song on Spotify or a pet in the room. Avoid as much distraction as possible and remember that there are breaks throughout to go toilet and get food.
Join for free – If you are not a big better or are still deciding what works for you, then play at an open tournament. A free slot tournament in 2021 will usually offer prizes to winners. That winner could be you.
If you're an existing player, an online slot tournament is a fantastic way to mix things up and start being competitive. If you are new to online casinos, then it's a thrilling entry into the world of pokies. Tournaments are continually taking place throughout the year with many providers playing host, meaning you won't have to wait long to take part in the action.
When playing for real money, it's also important to remember to be sensible and play safe. Don't bet money that you don't have a try not to get caught up in the momentum of the game without being rational and calculated. After all, it's no fun losing the money you don't have.
You're Welcome To Share This Post On Your Social Media
Related Posts
FAQ
Is it legal to play online casinos?

Yes. It is legal to play online casinos while playing from Australia.

Are pokies tournaments only for experienced players?

No. Anyone can play, and anyone can win big. All you need to do is sign up and give it a go. If you don't win, you will still have a lot of fun playing.

How much can you win at pokies tournaments online?

The prize amount can vary depending on the casino and the size of the tournament. Prize pools range from $100 to $25,000. However, some casino operators such as Microgaming run tournaments where the grand prize is upwards of $1 million.

Can I set up a tournament with my friends?

Some casinos allow the opportunity for players to set up a tournament, meaning you can play amongst family and friends. This is a lot harder to organise, and the options to do this are minimal.