Online Casinos
—
Blog
—
Poker Terms List for Beginners – Basic Terms Every Poker Player Should Understand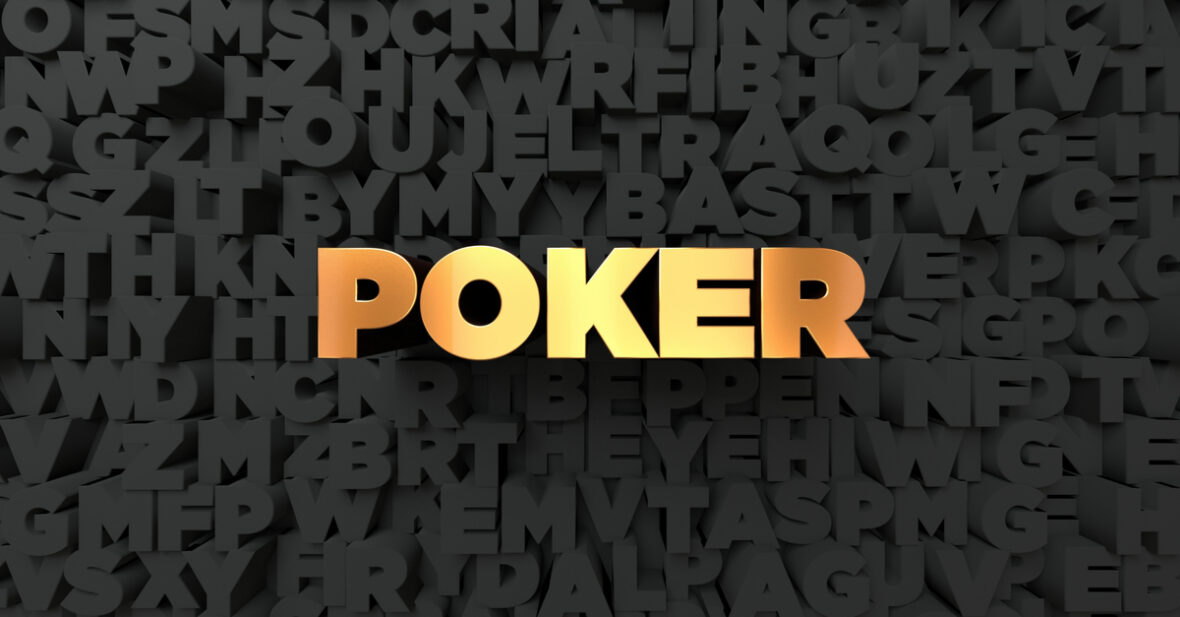 Poker Terms List for Beginners – Basic Terms Every Poker Player Should Understand

Oliver Moore
/ 3 April 2022
Poker Terms List – Terms and Definitions Australian Gamblers Need to Know
Started somewhere in the 18th century and a game for a small elite, poker has come a long way in its development to reach the desktop and mobile screens of online casino users in Australia. In 2022, online poker, along with slots and speed lottery, will be one of the most popular games, with over 100 million players worldwide. While the rules are simple, you need to accumulate years of experience to excel in the game, which is poker's kicker. However, you need to learn the common poker terms to get the best out of the game to start your plunge into poker. So, read on for a poker terms list 2022 with definitions that every novice poker player needs to know.
Best Online Casinos to Play Poker in Australia 2022
Name
Welcome Bonus
Details
Importance of Common Poker Terms
Whether you want to talk on an equal footing with your poker buddies or understand what is going on while watching the WSOP, you will need the poker terms list as a cheat sheet. Throughout the years, poker language has acquired many slang words and terms that may sound unusual to untrained beginner's ears. So, if you limit yourself to poker machines available at online casinos in Australia, knowing terms like "call," "hold," and poker hand will probably be enough to get started. However, if you aim to make it to the big leagues, challenge the big players, and play in major tournaments, you should thoroughly study the poker terms list. Whether playing online or living at a physical table in Australia, there are plenty of poker slang terms that everyone should know.
Poker Terms List 2022
Because poker uses so many jargon words, our poker terms list works as a glossary for those who want to get into the game and understand its rules better. No matter which version of poker you choose, the main goal is to beat your opponents and build the strongest hand to win the pot. While the poker hand rankings are the basis for understanding the game, you also need to know many poker slang terms to achieve more meaningful results.
Common Poker Terms in Australia
We've compiled a list of poker terms in alphabetical order to make it easier for you to find the term or slang word you want to understand. So, go through the list to improve your understanding of the game:
ABC Poker. The term is used to refer to players using a basic strategy of playing only strong hands and discarding weak ones.
Ante. A small contribution to the pot that players make before the hand is dealt to increase the prize pool.
All-in. Worthy of inclusion on this poker terms list, this slang word refers to a tactic when a player bets all his chips to demonstrate how strong the hand is (sometimes it's just a bluff).
Blind. The player is to the left of the button, and a forced bet is made before the hand is dealt. This term is also associated with Small/Big Blind, which is included in the poker terms list for Hold 'em.
Button. The marker indicating the dealer.
Call. Pacing a bet equal to the previous one.
Check. Refusing to place a bet. There is also a poker terms list where Check stands for a poker chip.
Dealer. According to the glossary, he is dealing with the cards.
Flop. This corresponds to the action of flipping 3 community cards face up.
Hold. Keeping cards that can be used to build up a strong hand.
Nuts. One popular poker slang term, describing the best possible cards at a particular point in the game.
Raise. The action of increasing the current bet size.
Rake. Free the poker house charges for organizing the game.
Satellite. The name given to a smaller event is used to qualify for a larger tournament.
Showdown. The game's final stage, during which the remaining players reveal their cards.
Tilt. In poker slang terms, this refers to irrational actions that result in losing a majority of hands.
In addition, there are many common poker terms that you will find in the poker glossary, tutorials, and video courses.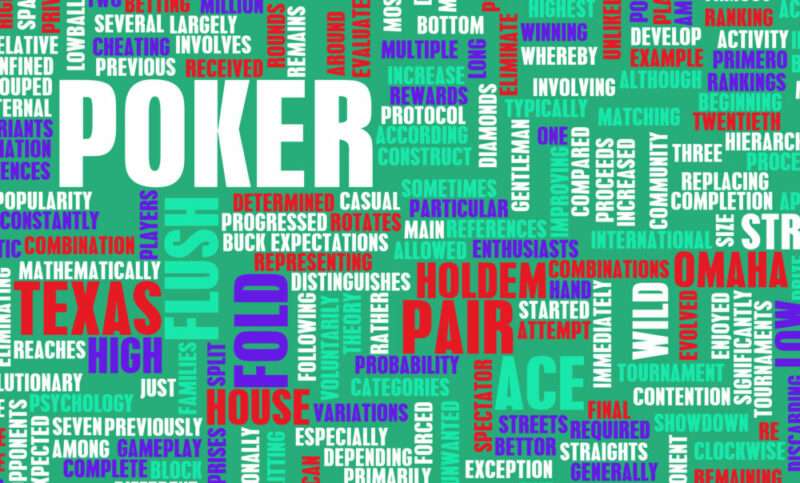 List of Poker Terms with Longer Definitions in Australia
While we've covered some of the more important common poker terms, you needn't be complacent, as the list of poker terms includes plenty of profiling slang words that are important to understand for any poker player wishing to excel in the game:
American Airlines. The common name for a pair of pocket Aces, as the resulting abbreviation (AA), is the same as the words American Airlines build up. Notably, some Texas Hold 'em players also call pocket Aces "pocket rockets" for being the strongest hand.
Brick. In almost every poker terms list or glossary, you'll find this slang word that describes a card that can't change the current situation at the table because it's not relevant to the hand. This is good news for a player with a strong hand, as Brick is unlikely to bring any benefit to opponents.
Clicking Buttons. Caught on the poker terms list during the heyday of online poker in Australia, this slang term describes players who play mindlessly.
Shark. In any poker terms list, this term denotes a strong player who thoroughly knows the game's rules and uses his strategies to achieve outstanding results.
Tanking. The term refers to a player who takes a long time to make an informed decision. You will probably find yourself tanking in the initial stages until you thoroughly learn the game's rules.
Bear in mind that some terms may have more than one meaning, but you can easily understand what they are about depending on the game context.
Learn Poker Terms List 2022 to Play Like A Pro
In 2022, there are many ways to learn the poker game in Australia. There are guides, tutorials, and poker trainers available to take your game to a new high. But understanding the words on the list of poker terms will speed up your learning curve and get you to the point where you're playing on equal footing with the big-time poker players.
You're Welcome To Share This Post On Your Social Media
Related Posts
FAQ
What makes poker this popular game in Australia?

Simple rules, plenty of decision-making options, and luck and skill make poker a sought-after and popular gambling game.

Where do I start to learn poker in Australia?

Start by studying the poker terms list to understand better what the poker pros say, who find it difficult to express themselves without using slang words.

Where can I play poker in Australia?

You can play poker at online casinos and poker rooms to enjoy the game from the comfort of your home. First, however, start with the poker terms list to better understand what's happening at the table.