How to Win at Roulette

Oliver Moore
/ 9 December 2020
How to win at Roulette playing online in Australia
Invented more than 200 years ago a game of Roulette still remains popular among gamblers. In the major online roulette Australian casinos, players come across three main game types: French, American and European. There is also Live Roulette – an online game with a live dealer using real time broadcasting.
American roulette has two zeros on the wheel, while European and French roulette types feature one. European and French roulettes are similar in terms of rules, except for the layout of the table and different bets.
Best Casinos to Play Roulette in Australia
Name
Welcome Bonus
Details
Rules of online Roulette in Australia
Roulette is a game for 1-7 players in which the participants play not against each other, but against the banker. Before exploring how to win at roulette strategy, learning rules are a must. Half of the playing field is divided into small sections with bets, and the other half has a large wheel controlled by the dealer. The win condition is simple, you guess where the ball lands, and hence you get high payout. Online Roulette Australia gameplay is straitforward:
Join the table and make bets on the outcome.
Choose a section on the playing field you want to bet on.
Adjust your bet size.
Click the number or section to make a bet.
Wait for other players to finish their bets.
The dealer spins the wheel in one direction and throws the ball in the other direction.
In a while, the ball hits one of the sections of the wheel with a specific number and color.
All players receive a payout depending on their bets.
A new round begins with the same rules.
These rules apply to all three types of games as well as live dealer tables.
What are Roulette winning odds?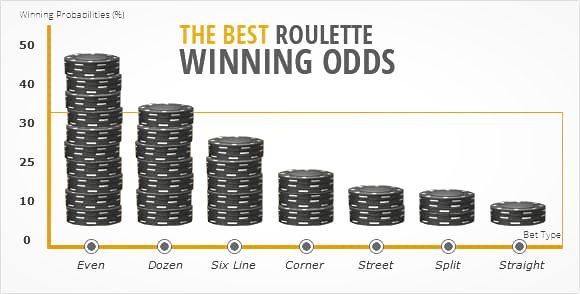 The playing field and bets in roulette are always the same, so it is simple to calculate winning odds. Each bet has its own payout, and the house edge for all bets is 2.70%. As for European roulette, the winning odds are:
Straight – the biggest payout 35:1, odds 2.70%.
Split – payout 17:1, odds 5.41%.
Street – payout 11:1, odds 8.11%.
Corner or Square – payout 8:1, odds 10.81%.
Six Line – payout 5:1, odds 16.2%.
Column – payout 2:1, odds 32.4%.
Dozen – payout 2:1, odds 32.4%.
Red or Black – payout 1:1, odds 48.64%.
Even or Odd – payout 1:1, odds 48.64%.
High or Low – payout 1:1, odds 48.64%.
American roulette has a slightly lower odds as there is another section on the wheel – double zero. Listed roulette odds are relevant for all online roulette Australia casinos.
How to bet at Roulette?
Roulette bets are the integral part of the "How to Win at Roulette" guide. The bets in the game are divided into 4 types – outside, inside, call and final.
Outside bets are bets that are located around the perimeter of the game table: color, even or not, high or low, columns and dozens. These are simple bets with the lowest payouts and the highest odds.
Inside bets got their name because all sections are inside a rectangle. This category includes split, straight, street, corner, line. Risky bets with big payouts and small odds.
Call bets are only available in French and European roulette and you won't find them in all casinos. Instead of placing chips on the playing field, the player shouts out his bet. This feature is used by high roller Australian casino players.
The final bet is the last digit bet. For example, if your final bet is 6, then you are betting on 6, 16, 26 and 36.
To make bets in any Australian online casino, you need to select the size of the bet and then click on the field. Bets can be adjusted by using "+" and "-" buttons.
How to win Roulette games? Best strategies
Wide variety of bets and huge wins are key features of the roulette game. If your goal is to win, then there is no room for experimentation and random bets. By following the winning roulette strategy, you can get advantages over other players. Simple winning strategy and tips:
Play only European Roulette, as this version has one zero and higher odds.
Remember all the roulette odds before you start playing.
Play some free rounds. This will help you to get used to the flow of the game, gain experience and feel confident at a real table.
Stick to outside bets. Don't try to take risks if you have little experience. Safe roulette bets with the highest odds is your choice.
Double up tactics. Choose online roulette Australia casinos with the lowest bets. Start playing high winning odds Red or Black bet with AUD$1. As soon as you lose, place your next bet AUD$2. Double your bet with every loss.
If you want to aim for big wins, play a column bet.
Playing online roulette and gaining experience, you will come up with your own winning roulette strategies. In the meantime, use this proven and 100% working tactics and detailed how to win at roulette guide to win real cash.
You're Welcome To Share This Post On Your Social Media
Related Posts