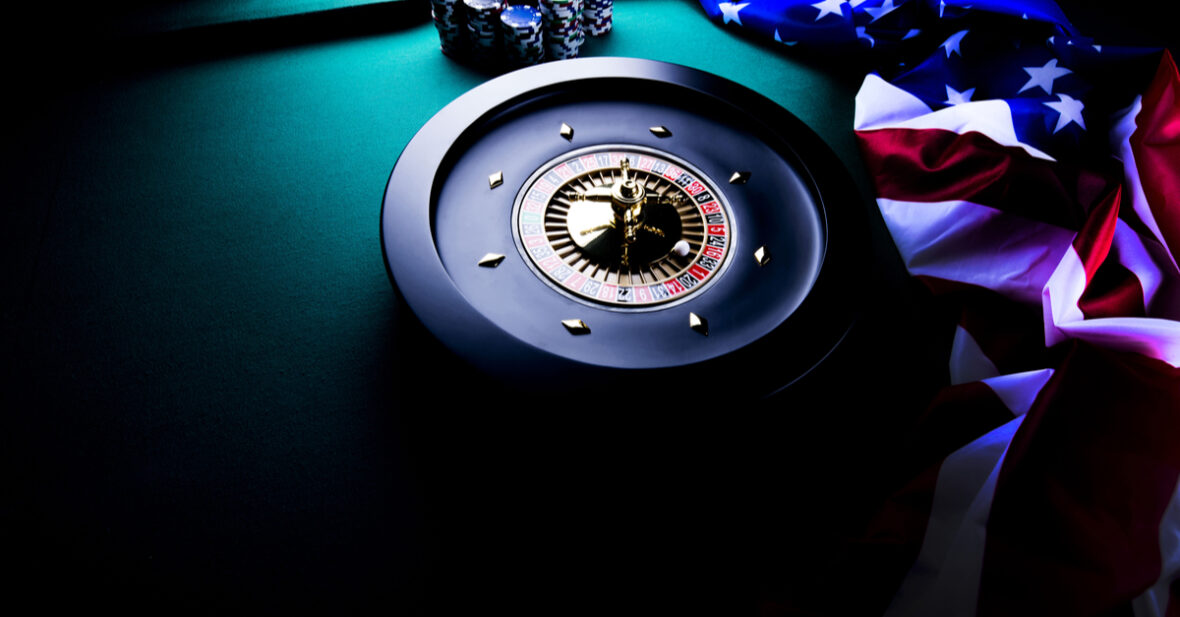 How To Play American Roulette And Win – Insights Into Betting

Oliver Moore
/ 19 March 2022
How To Play American Roulette Game: Aussie-Friendly Guide To Betting
The immensely entertaining roulette game emerged in the 17th century in France. In less than two centuries, it entered the American gambling repertoire. The Land of the Free changed its classic rules and introduced an additional Double Zero sector. Read below and learn how to play American roulette wheel, which nowadays garners gamblers' adoration across the world – including in Australia.
Best Online Casinos to Play Roulette in Australia
Name
Welcome Bonus
Details
How Do You Play American Roulette?
The extra 00 pocket on the American roulette wheel raises the house edge to 5.25% – compared to 2.7% in the European version. Double Zero brings along increased risks and additional betting options. Aside from that, nothing changes in the basics of how to play American roulette wheel in casinos of Australia.
Any roulette game starts with player bets. Get familiar with the popular bets and their payouts listed in this article to gather an idea of what wagers to try.
The game croupier throws the ball into the spinning roulette wheel. For now, players are still allowed to place their bets.
While the ball is still full of momentum, the croupier makes the "No more bets" announcement. After this, bets are no longer allowed.
The ball stops in one of the roulette wheel pockets. If a player has a bet that covers this number, color, or parity, they will receive a payout per their betting odds.
Wondering how to play American roulette online in Australia? RNG-based roulette games have no croupier. Placing your bets sets the wheel in motion. When the virtual ball stops, your winnings (if any) are automatically delivered to your balance.
Types of American Roulette Bets
All roulette betting options are conventionally divided into inside and outside bets – based on where your chip goes on the table. Once you learn how to play American roulette, strategy decisions and betting combinations will help you achieve the highest odds or payouts in 2022.
Inside Bets
Inside bets include all possible wagers you can place on the table's inner section. They have some of the highest payouts in American roulette. But the big wins are balanced by lower chances of hitting.
Straight-up bet goes on a single number. The 0 and 00 sectors are also available for wagering. A winning straight-up bet will pay 35:1.
Split bet covers two numbers situated next to each other. 0 and 00 are open for betting. Your chip is positioned on the line separating the two numbers. Should you win, you'll be delivered a 17:1 payout.
Street covers three numbers that form a row on the table. Other possible number combinations are: 00-2-3 and 0-00-2 and 0-1-2. Your chip typically goes onto the line at the beginning of the row. A winning Street wager pays 11:1.
Corner covers a group of four adjacent numbers. Your betting chip is placed where the four numbered boxes touch. The payout is $8 on every $1 wagered.
Five – knowing about this bet is crucial in how to play American roulette, as it's absent in the European and French versions. You bet on the very first numbers on the table: 0, 00, 1, 2, 3. A winning Five bet delivers a payout of 6:1.
Line – you cover six numbers that constitute two adjacent rows on the table. A betting chip is placed at the beginning of the two rows, on top of the separating border. A winning roulette spin will bring you a 5:1 payout.
Betting on the inside is generally not advised when Aussie novices ask how to play American roulette in 2022. However, players with a larger bankroll and a preference for riskier wagers often build their betting style around inside bets.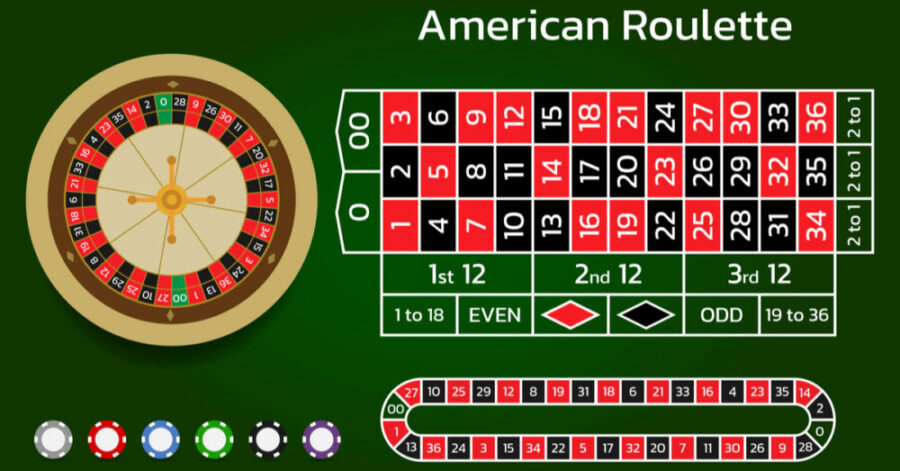 Outside Bets
Outside bets have lower payouts but higher chances to win, covering at least a third of the roulette table. They represent a more cautious betting style and are the recommended way how to play American roulette as a newcomer in Australia's casinos.
Column – your bet includes one of the three columns of numbers and pays 2:1. The chip goes on the "2:1" section below the column.
Dozen – you wager on one of the three dozens: 1-12 aka "1st 12", 13-24 aka "2nd 12", or 25-36 aka "3rd 12". Same as the column bet, a Dozen bet pays 2:1.
Betting on either color covers 18 numbers – all the red or black numbers you can see on the wheel. Your chip goes on the red or black numberless box on the table. This bet can bring you a 1:1 payout.
Betting on Odd/Even covers 18 odd or even parity numbers and pays 1:1. Your betting chip goes on the Odd or Even box.
Betting on High/Low – you cover 18 numbers with your bet that pays 1:1. Your chip goes either to the "1 to 18" box for a Low bet or to the "19 to 36" box for a High bet.
Should the ball stop at 0 or 00, the casino keeps 50% of the above outside bets and returns the remaining 50% to players.
Conclusion
Now that you've explored the basics of how to play American roulette wheel, you're ready to dive headfirst into practice! Consider starting with free online games to try out various bets. Check out the high-ranked roulette betting strategies and tips from seasoned players. Coming to the roulette table well-prepared and armed with knowledge is how to play American roulette and win!
You're Welcome To Share This Post On Your Social Media
Related Posts
FAQ
How to play American roulette with casino bonuses in 2022?

It's no different from standard gameplay. The only distinction is you'll have to comply with the bonus conditions before withdrawing your winning.

How to play American roulette and win? What's the best strategy?

Many betting strategies have been devised, but none can guarantee a win. Yet, a consistent betting pattern can improve your bankroll management.

How to play American roulette game online using Martingale?

Consistently increase your bet after losses and lower it after wins. The Martingale strategy is usually allowed in online casinos, but checking T&C never hurts.